The Critical Money Moves You Have Been Ignoring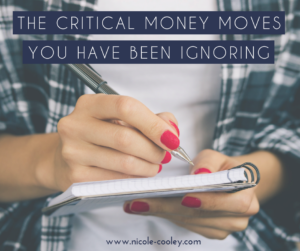 Whether you have school-age kids or not, something happens at the end of August that makes you realize summer is coming to an end. All of a sudden the evening air has a chill, your calendar is filling up and it takes a just little longer in the morning for the sun to rise.
I love the energy of fall because it feels like a blank slate and a fresh start. After a summer of neglecting everything from mail to housework, it's a time to get organized and re-focused. I always feel invigorated and inspired this time of year. And I want to harness those feelings into productivity as much as possible!
Because of this, I have noticed it is a great time of the year to do things that you have been putting off for a long time. And I know, from managing my own affairs to helping clients, that almost everyone has some financial housekeeping that has been on their list of to-dos for wayyyy too long.
So today, I want you to create your financial to-do list if you don't have one. If you do have one, it's time to find it, refresh it and pick something to tackle.
The ironic part about your financial to-do list is that you could be doing everything right on a day to day basis, but it's the financial tasks that get neglected that can have the biggest impact on the long-term health of your finances. Things like refinancing, investments, legal work, etc. Things that don't feel like they have a pressing need, but will make a big impact if you don't get around it. Often these tasks are avoided because they feel hard, or confusing or they require too much time.
But I have to reiterate that they are the things that matter the most.
So, let's refresh and tackle our financial to-do's this fall. Check something off the list. Move something forward. Reach out for help on something confusing. It matters and it's up to you.
Here are some ideas to get you started:
401K rollovers: If you have moved jobs and have old 401K's hanging around, it's generally best to roll them into an IRA account. Tip: Once you roll the money into the IRA account it will be sitting in cash until you get in invested, don't miss that step!

Checking up on investment accounts: When was the last time you checked in on your investment accounts and evaluated your rate of return and expense levels? Yeah, we don't do it enough. Time for a check in!

Opening new accounts/ changing banks: If you have been meaning to switch to the local credit union (this one is on my list) or open up that travel savings account, make it happen!

Life Insurance: Not everyone needs life insurance, but if you have kids or anyone else who relies on your income you should work with a licensed agent to make sure you are covered. Tip: Often the type of life insurance offered in employee benefit packages is not enough!

Wills/ Trusts: Do you have a will or trust set up for your estate? If something happened to you tomorrow, what would happen? Best to get your ducks in a row to make it as easy for your family in the event of the unspeakable.

Opening college funds: This is on my list to figure out soon! Whether you are saving on your own or opening a 529 plan (there are pros and cons. so do your research) the earlier you are able to get on this, the better

Refinancing a home or car: This requires a lot of time and energy but if it's going to save you money in the long run, it is worth it! Break down what you need to do for your refinance in baby steps you can check off one by one to help keep you motivated.
It's so easy to let these important tasks get lost in the rush of day-to-day living. But as much as I want you to buy intentionally and pay down debt, even that takes a back seen to being properly insured and evaluating your investment accounts.
Your financial to-do list might never be complete, and that is ok. Once something gets checked off, something else might get added! But this financial to-do list should be something that you maintain and check in with on a regular basis. Do it for yourself, and do it for your family. Because when you can get your investments, insurance, and legal documents in place AND pay off your debt and spend with intention? THAT is financial freedom.