Three Ways To Start Saving This Week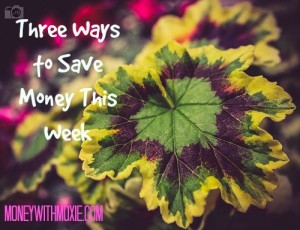 Its September, and while in Seattle we are still having summer like weather, we know we are on borrowed time. Time to dig out the scarves, polish up the boots and cuddle up to watch some football.
This seasonal transition is the best time of the year, for me, to revisit goals. If your goal is to get back to saving some cash, here are three simple steps you can use this week to get you started.
1. Meal plan
If you haven't meal planned in a while, you probably have a pantry full of random ingredients that you bought through the summer. Do an assessment and take advantage of what you already have. Only buy complimentary ingredients to round out the meal. Also, try to plan ahead and only shop once for the week. This will cut back on fast food (leftovers for lunch!) and you will most likely be cooking healthier meals. A win win!
2. Visit the library
Its so easy to forget about the library in our digital world. I am as guilty as the next person of getting trigger happy on my kindle, but I know that if I planned ahead I could have borrowed the same book from the library for free. Sometimes its nice to take a break from digital and borrow the real deal, but if your strictly digital, you can download straight to your digital reader and take advantage of shorter wait time.
3. Stay out of the department stores
Shopping isn't inherently bad (its actually one of my favorite things!) but sometimes when your trying to make changes in your life out of sight out of mind is the easier way to go.
[Tweet "Shopping isn't inherently bad but sometimes when your trying to make changes in your life out of sight out of mind is the easier way to go. @moneywithmoxie"]
Put yourself on a shopping fast, see how long you can go without buying a new piece of clothing or hitting the nearest Target. If you do need to go to the store, go with a list. Stick to the list. You will be surprised how much the random add on items, aka mindless spending, adds up.
Because these are small changes, they should be easy to try. But small changes are important because they cumulate into larger changes that will make major differences in your financial picture.