COVID-19 Financial Relief Resources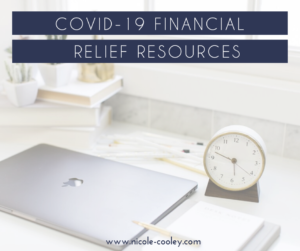 (I will be continuing to update this post as more relevant resources are made available)
The COVID-19 pandemic is obviously scary on many levels, but for those who lost their income overnight, it reaches an entirely new level.
I recently did a poll on my Instagram stories and while about 50% said their income had already been impacted by the pandemic, closer to 75% expected it to impact their income at some point.
What is clear is that no one knows how this will play out. And now, more than ever, we need to be good stewards of our Finances. Whether you are stretching an emergency fund as far as you can or protecting yourself against the 'what if's'… here are some articles and financial resources I have gathered that might help.
COVID-19 Stimulus Payments: The best article I found outlining the rules for the stimulus payments going to most Americans, and a calculator to see how much you will get. Check the status of your payment here.
NY Times "Money Hub" Article: This article is the go-to for all COVID-19 financial information. It covers pauses in evictions, utilities, student loans, unemployment and more. It will also include information on the stimulus package as it is released. Bookmark this article as your go-to source!
Student loan interest being waived: This one is interesting because anyone with student loans could take advantage of this IF you are smart about it as this article explains.
Small business loans, disaster assistance: If you are a small business owner, you could qualify for a disaster assistance loan. Definitely worth checking out if your business has been impacted by the pandemic.
Taxes filing and payment extended to July 15th: If you are going to get a refund, please still file your taxes ASAP and get your money back. If your income hasn't been impacted by COVID you should also try to file early, even if you owe money, so you can be done with it and shift your focus elsewhere. But if you need cash NOW, this can provide some relief.
Job Loss Community: YNAB (You Need A Budget) started this free community for support and resources if you have lost your job during the pandemic.
What has been so inspiring to me is how businesses have adapted, pivoted, and gone online overnight. We are so resilient and we will get through this, together. As you navigate these new waters, this new normal, you need to keep an eye on the numbers and the resources available to support you.
But more importantly, you need to keep your vibe high, your mindset positive, and your creativity fueled.
This video has definitely has helped me raise my vibe, a few times. I hope you take two minutes to let it pump you up too.
And stay tuned for more resources on cultivating a positive money mindset in a chaotic world. I've been working away behind the scenes on more free resources I hope to share with you next week.
Stay positive!