A Fun Way To Set Christmas Expectations With Kids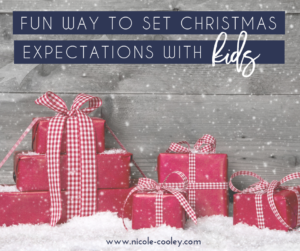 Today, I want to share an idea I love that helps set holiday expectations with kids.
This is geared towards kids but can also keep the gift buyers (us parents!) in check with our spending.
The idea is to have your kids make their Christmas wish lists by considering these four categories:
Something they want
Something they need
Something to wear
Something to read
They can then expect one gift from each category which helps set their expectations for Christmas morning and helps make your gift buying process intentional.
Some other category additions I have seen are:
Something to make
Something to do
Something to share
Something for the family
If you like this idea, use these four categories as a base and then adapt to fit the needs of your family.
Here are some ideas to make this tradition your own:
make Santa gifts separate from the categories
have extended family buy from the categories wish list
allow two "wants" at Christmas
use for spousal gifts
the possibilities are endless….make it work for you
If the holiday season has grown a bit out of control in your household, this can be a fun new tradition to help bring some limits and intention back into the gift giving process. Take what works for your family, leave the rest and continue to work towards a budget friendly holiday.
I found a freebie download from Pinterest you can use to get started.