Winter Blues? How To Stay On Track With Your Money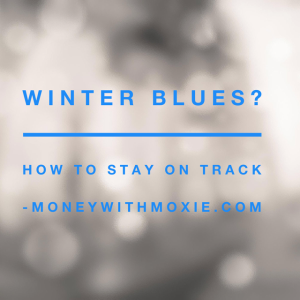 It's a very grey January around here. Spring is nowhere in sight, it gets dark way to early and its flu season! For me, it takes a few weeks to snap out of this post-holiday, mid-winter fog. And when I'm in it, I'm not always my go-getter, Type-A-To-The-Max self.
So, some stuff slides. It happens, even with money. But if you find yourself in a mid-winter funk, here are three tips to keep your money resolutions on track.
First, automate where you can. It takes self-discipline out of the question. Here are a couple ideas to get you started:
· Set up an automated transfer to savings the same day as your paycheck comes in
· Set up all credit cards (or other revolving credit) to auto pay the minimum payment. I'm sure you are paying more than the minimums on your cards (aren't you!?) but auto paying the minimum (and manually paying more throughout the month) ensures you don't get hit with any late payments.
Second, plan ahead when you feel up to it. When you get that burst of energy and motivation, harness it as much as possible. Meal plan and make the grocery list. Catch up on your tracking. Make sure there aren't any lingering bills in the stack of mail on the counter.
Third, stay away from online shopping. It might be tempting to boost your mood with some online retail therapy, but heed this warning.
The high from shopping is a temporary mood booster.
By the time the package arrives; you will be regretting the budget buster.
Finally, if you have the winter blues cut yourself some slack. Our energy ebbs and flows through the seasons. If you are in self-proclaimed hibernation relish it.
You will be able to enjoy the downtime even more when you know your money is in order.
Now I want to hear from you. What are you doing to combat the winter blues?