Every day you get to express your values in the way you spend and earn your money.
Are you in alignment?
You love your life and from the outside things look like they are going pretty well. But what other people can't see is the credit card balances that never seem to decrease and the lack of savings that makes you super nervous about an emergency. Sure, none of this is going to impact how you pay your bills tomorrow, but you know you aren't reaching your financial goals and it will all catch up with you at some point.
But you're also busy. You barely have time to sneak in some Netflix before you fall into bed at night let alone read all the money books and try all the money systems to figure out how to do this on your own.
You don't have to carry this burden alone. It's time to get some help.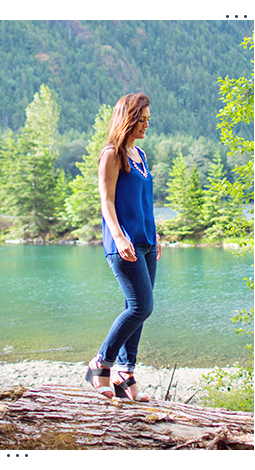 Imagine feeling confident you can reach your financial goals while maintaining the parts of your lifestyle that matter to YOU the most.
What would it feel like to have a trusted money partner who understood your unique goals and life?

How would it feel to know every time you are spending money, you are doing it with intention (and guilt free)?

Imagine yourself reaching your financial goals and what that could mean for your family, your business and your life.
The bottom line: You hire personal trainers to hold you accountable and get you in shape faster. You outsource household chores and repairs that aren't your area of expertise so you can focus on your zone of genius (like making money!). 
It's time for a money coach to help you save the time, energy and money you need to help reach your financial goals. 
Nicole has given me the gift of financial confidence I haven't had before.

Before working with Nicole, I was completely and overwhelmed and felt out of control when it came to money. I was constantly in panic mode.
Nicole helped me untangle my personal and business expenses and work the thing I value into my spending plans. I am now so much more connected to my money and feel a HUGE weight lifted off my shoulders.


-- Melissa
www.karmachow.com
Are you ready to manage money with intention and purpose?
Who are you? Click below to find out how I can help you!
I work with my clients to develop customized money management systems and debt/savings plans while exploring your money patterns, money blocks and ideal lifestyle goals.

The numbers tell your story.
Together we will gather your financial data and start building customized systems for you to track and manage. I help my clients build systems that are sustainable. That means it needs to be streamlined and easy to maintain. I will help you focus your efforts to the details that matter and roll up the rest.

We align your new spending plan and money management system with your values.
Together we will look at your monthly income and expenses and decide what is working, and what isn't. This isn't about me telling you what you want do anymore. Instead we prioritize what is important and cut the rest. When my clients see this approach will work for them, is my favorite moment as a coach!

We adjust your money beliefs that aren't serving you and create plans to hit your long-term financial goals.
Once we have the foundation of the system and value-based spending in place, we build on it by creating debt repayment plans, savings plans, annual spending plans, and earning goals. All along the way we will be exploring and adjusting your belief systems and attitudes about money. 
When the emotional work is coupled with the practical, that is where true sustainable change occurs.
 I work with my clients in a 1:1 capacity because creating customized solutions and tackling unique money issues head on is truly a passion for me.
Value Based Spending
Learn how to spend where it matters and cut the rest
Practical Money Skills
The practical, number crunching skills you need to help you reach all your financial goals.
Money Patterns
Uncover your money story and determine which patterns need to be re-written.
Money Patterns
Uncover your money story and determine which patterns need to be re-written.
Goal Setting
Develop financial and personal goals that will enhance your life spiritually, emotionally, and financially.
Personal Vision
Align every interaction you have with money towards building the life of your dreams.
Are you ready to manage money with intention and purpose?
Who are you? Click below to find out how I can help you!
You know it's time! Let's get started!